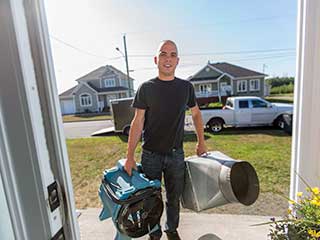 Why Get Them Cleaned?
Not sure what the purpose of air duct cleaning is, or why you would want it? Don't worry! We're happy to explain. When your air ducts pull in air to disperse around your home, dirt and other substances are also drawn inside. These materials get trapped inside and begin to build up over time, making clogs that slow down air flow. This can take a toll on your energy bill, as your heating and air conditioning have to run for longer in order to fully reach all the rooms in your home and stabilize the temperature. Along with that, the dust and otherwise contaminates the air as it passes through, which lowers the quality. This can mean everything from fatigue and irritable allergies for some, to struggles breathing for those with asthma or other such medical conditions.
Is It Time To Schedule?
If you're unsure when it's time to get your ducts cleared out, there are a few easy steps to check. One is to look at the vents around your home and see if they're choked up with dust, as that points to the ducts suffering from the same problem. You may be able to remove the vent as well and look inside to see for yourself if there's debris. Another sign is anyone in your home struggling with things like allergies or breathing issues even while indoors. The poor air is likely making these things worse, and the symptoms more noticeable. Checking your energy bill for signs of it rising steadily may also be indicating that this is the problem.
Let Us Handle It!
Our team of experts will be able to quickly and easily get your air duct like new again before you know it! Years of experience and use of the finest equipment available assures that despite the speed, the job will be thoroughly done and last for a while.
Why Wait Any Longer?
Call Air Duct Cleaning The Woodlands today to discover more about how we can assist you! You'll be glad you did.
We also offer:
Fire Place & Chimney Cleaning